Using Drones in Planning Practice
PAS Report 597
By Richard Stephens, Rob Dannenberg, Wendie Kellington, Patrick Sherman
APA member & PAS subscriber
$0.00
---
Drones — more technically known as unmanned or uncrewed aircraft systems (UAS), or unmanned or uncrewed aerial vehicles (UAV) — are quickly becoming indispensable tools for almost every discipline from agriculture to zoology. Extraordinary opportunities exist for integrating UAS within urban planning and design practice. Are you ready?
Using Drones in Planning Practice provides planners with the knowledge they need to determine whether UAS can enhance their planning practice and, if so, to take the first steps toward UAS implementation.
Drones offer tangible and intangible benefits for public- and private-sector planning organizations, expanding their capabilities for a wide range of activities that would be otherwise difficult, expensive, or impossible to carry out. This report offers the information planners need to integrate UAS into professional planning practice, including comprehensive discussions of technology and equipment, operational and administrative practices, and legal and regulatory considerations.
This report makes the case for how drones can help planners do their work more safely, efficiently, and cost-effectively. As planners prepare to navigate the ever-increasing technological and societal changes of the 21st century, drones should be a tool in the planning toolbox that all practitioners know when and how to use.
Excerpt
About the Authors
Ric Stephens is a senior aviation planner for NV5 responsible for master planning of airport, heliport, vertiport, eco-district, and eco-industrial developments. He has over 40 years of experience in aviation, including three decades of aerial photography for urban planning projects, post-disaster evaluation, construction management, agricultural monitoring, and many other applications.
Rob Dannenberg has been at the leading edge of key practical applications and program development for commercial UAVs for over eight years. As an industry leader and subject matter expert for program development he is internationally recognized as a UAS risk mitigation and safety expert.
Wendie Kellington has been practicing law since 1983. She is a preeminent, A-rated attorney by Martindale-Hubbell and is nationally renowned for her expertise in land-use law and the development of UAS policy. She is a regular presenter at the American Bar Association (ABA) Land Use Institute and has written extensively on land-use issues as well as drones in both professional and popular journals and magazines.
Patrick Sherman is a pioneer in the UAS industry, with more than 10 years of experience as a drone pilot. An internationally recognized expert on UAS operations and technology, he is the author of more than 150 published articles on the subject. He was recognized as a "Drone Instructor of the Year" by the Association for Unmanned Vehicle Systems International.
You May Also Like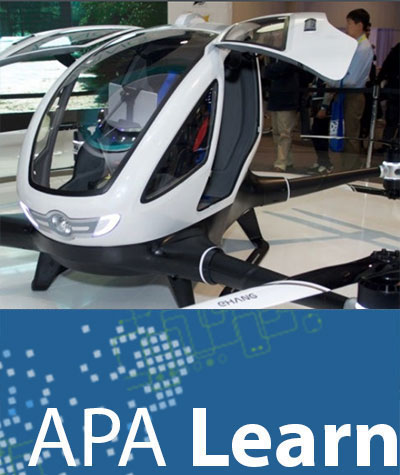 APA Learn
CM | 1.5 | Law
PAS QuickNotes
---
Product Details
Date Published
Nov. 1, 2020
Publisher
American Planning Association
Table of Contents
Executive Summary
Chapter 1: An Introduction to Drones
What Is a Drone?
Why Planners Should Use Drones
UAS Considerations
About This Report
Chapter 2: UAS Equipment and Technology
UAS Technology
UAS Equipment
UAS Software
UAS Safety Features
Conclusion
Chapter 3: UAS Applications for Planning
UAS Planning Applications
Planning-Adjacent UAS Applications
UAS Applications For Different Planning Contexts
Conclusion
Chapter 4: Implementing UAS Operations
In-House or Consultant?
Contracting With a UAS Consultant
Developing an In-House UAS Program
In-House Drone Programs for Private-Sector Planners
Conclusion
Chapter 5: UAS Regulatory and Legal Considerations
Commercial Versus Recreational Operations
Federal UAS Regulations
FAA Waivers
Federal Versus State and Local Regulations
Temporary Flight Restrictions
Additional Legal Considerations for UAS Operations
Conclusion
Chapter 6: The Future of Planning and Drones
UAS Trends and Implications for Planning
Preparing for a Smarter Future
Appendix A: UAS Abbreviations
Appendix B: UAS Glossary
Appendix C: UAS Applications
Appendix D: Model UAS Safety Code
Appendix E: Model UAS Operations Manual
References
Acknowledgments