Student Design Competition
2020 Student Design Competition
The 2020 APA Student Design Competition seeks innovative solutions to equitable community development, sustainable urban design, housing that's affordable for all, and resilient approaches to neighborhood planning.
The Student Design Competition is part of APA's ongoing effort to raise interest in the need for equitable, responsible, sustainable, and resilient communities for all among the leaders of tomorrow in the fields of planning and urban design. It is one of the strongest Divisions Council-wide programs between the Student Representatives Council and Divisions Council and, in its fourth year, the program continues to grow with energetic support from both student and professional members.
Thank you to everyone who has already submitted an entry, we recognize that participation in this competition requires a dutifully amount of hard work. APA would like to offer an extension of the competition deadline to June 1. Finalist will present their presentations virtually to the jury.
Student Design Competition Schedule
Extended Submission Deadline — June 1 | 6:00 pm CT
Winner Announced — July 24
About the Competition
Co-sponsored by the Divisions Council and the Student Representatives Council, the annual Student Design Competition creates opportunities for interdisciplinary student collaboration while advancing a current Divisions Council initiative. The winning team is awarded a $2,500 prize.
---
Previous Winners
2019
Team Fruitpad
Cornell University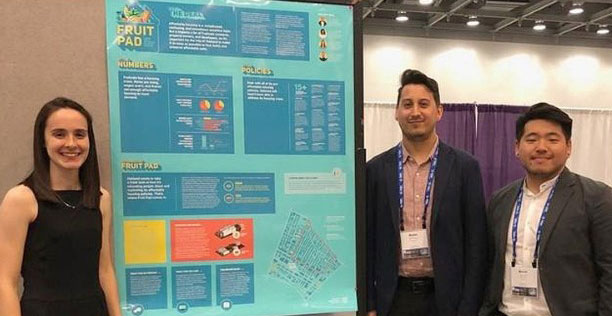 2018
NOLA Shares
Cornell University
Team Leader — Anna Callahan; Team Members — Thomas Pera, Hannah Plummer, Kari Spiegelhalter
NOLA Shares features a web and app-based platform that aims to increase and facilitate shared skills, resources and knowledge across the Iberville community in downtown New Orleans. In addition to cloud-based infrastructure, the team proposed physical kiosks installed throughout the neighborhood to guarantee access for all residents.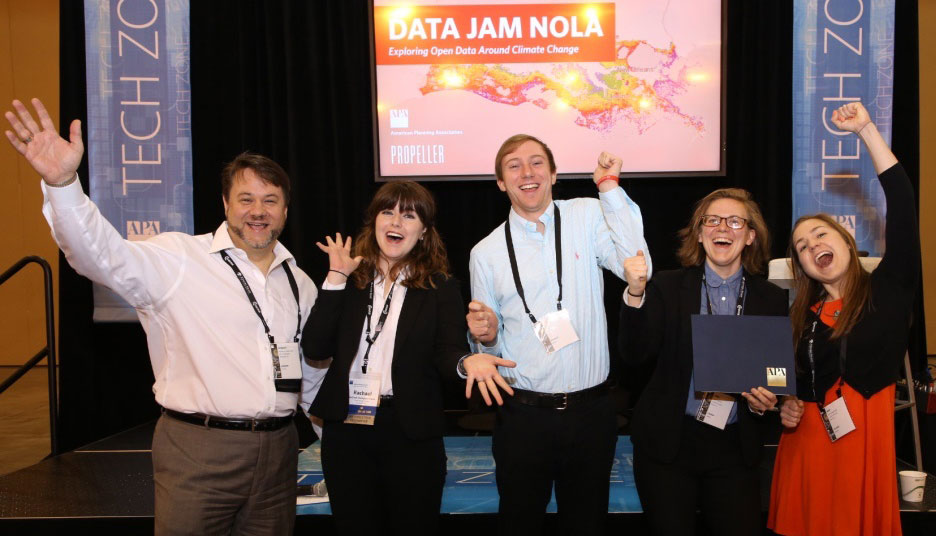 2017
L.E.A.P. to a Smart Future
University of Illinois at Urbana-Champaign
Team Leader — Xiaochen Chen; Team Members — Yuanyi Xiao, Donggyu Lee
The 2017 Student Design Competition invited interdisciplinary student teams to apply place-based Smart City technologies to a specific New York City site. The winning team, L.E.A.P. from the University of Illinois at Urbana-Champaign, creatively identified a four-part vision — L.E.A.P. to a Smart Future — detailing how Smart City technologies could be used to improve Livability, Empowerment, Accessibility, and Play on site.
Finalists
Four additional teams were selected as finalists and presented their ideas at the National Planning Conference in New York City.
Smart CATS
Kansas State University
Adaptive Strategies
New York University
UCLA MURPs
University of California, Los Angeles
The All-Nighters
University of Illinois at Urbana-Champaign