Student Design Competition
2020 Student Design Competition Winners
First Place
Team RES
Columbia University
"Team RES (resilient, responsive, restorative) seeks to promote healthy communities, support workforce development and community entrepreneurship, increase high-quality housing options, and incorporate strategies that optimize environmental assets and awareness. Through our proposal, we seek to address some of the community's concerns targeting flood mitigation, environmental remediation, gentrification, housing affordability, and the high crime rate. We explore the myriad of solutions around planning for communities that are equitable, resilient, and for residents who need ready access to housing that's affordable."
Second Place
University of Illinois-Urbana/Champaign
Third Place
Harvard University
2020 Student Design Competition Awards Jury
---
Juror
Veronica Escalera-Ibarra
Veronica Escalera-Ibarra is the chair of the APA Student Representatives Council. Escalera-Ibarra is a San Antonio native and second-year master's student at the University of Texas at San Antonio in Urban and Regional Planning. She is currently a real estate representative for the San Antonio River Authority.
---
Juror
Rachael Thompson Panik, AICP Candidate
Rachael Thompson Panik is the past chair of the Student Representatives Council. Panik graduated with her planning degree from Clemson University in 2018 and now is a graduate student and teaching assistant for the Georgia Institute of Technology.
---
Juror
Hadley Peterson, AICP Candidate
Hadley Peterson is a planning and design professional at the Design Workshop in Denver. Peterson is a bilingual planner with extensive community engagement experience. Situating her work with a foundation in research, she aims to engage stakeholders in community-driven planning and design efforts that address their built environments through innovative, thoughtful, and sustainable solutions.
---
Juror
Lohren Deeg
Lohren Deeg is an associate professor of urban planning at Ball State University. Deeg is an accomplished illustrator specializing in urban design, master planning, and downtown revitalization. His interests include historically appropriate infill, urban housing, greenways, public participation methods, environmental graphics, and wayfinding systems.
---
Juror
April Jackson, PhD
April Jackson is an assistant professor in the Department of Urban and Regional Planning at Florida State University and a research affiliate with the National Initiative on Mixed-Income Communities. As a community-engaged scholar and practitioner, her research focuses on the ways planners can promote racial equity and inclusion in mixed-income communities, institutions, and workplaces by advocating for equitable, inclusive, and just communities.
---
Juror
Robert M. Kerns, AICP
Rob Kerns is the development division chief for the City of Alexandria, Virginia. He is a certified planner with over 20 years of experience working with communities. Sustainability and comprehensive planning are major focuses of Kerns's planning career, emphasizing the latest growth management, urban design, and circulation strategies.
---
Juror
Ellen Forthofer
Ellen Forthofer is the Student Representatives Council past chair emeritus. Today Forthofer is the associate city planner for the Denver Public Works Transportation and Mobility planning department.
---
About the Competition
Co-sponsored by the Divisions Council and the Student Representatives Council, the annual Student Design Competition creates opportunities for interdisciplinary student collaboration while advancing a current Divisions Council initiative. The winning team is awarded a $2,500 prize.
The Student Design Competition is part of APA's ongoing effort to raise interest in the need for equitable, responsible, sustainable, and resilient communities for all among the leaders of tomorrow in the fields of planning and urban design. It is one of the strongest Divisions Council-wide programs between the Student Representatives Council and Divisions Council and, in its fourth year, the program continues to grow with energetic support from both student and professional members.
---
Previous Winners
2019
Team Fruitpad
Cornell University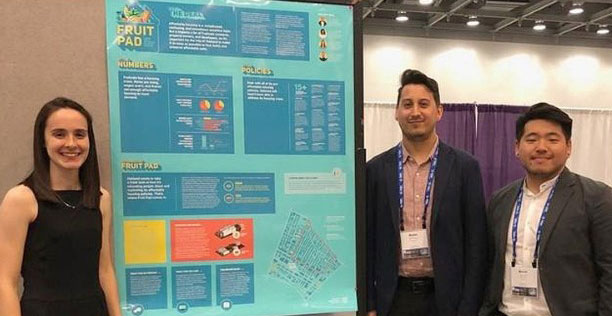 2018
NOLA Shares
Cornell University
Team Leader — Anna Callahan; Team Members — Thomas Pera, Hannah Plummer, Kari Spiegelhalter
NOLA Shares features a web and app-based platform that aims to increase and facilitate shared skills, resources and knowledge across the Iberville community in downtown New Orleans. In addition to cloud-based infrastructure, the team proposed physical kiosks installed throughout the neighborhood to guarantee access for all residents.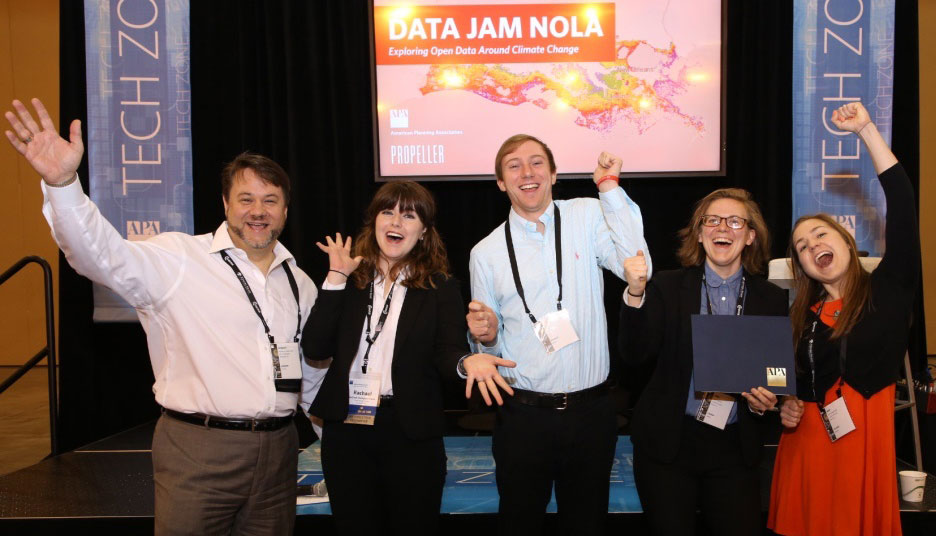 2017
L.E.A.P. to a Smart Future
University of Illinois at Urbana-Champaign
Team Leader — Xiaochen Chen; Team Members — Yuanyi Xiao, Donggyu Lee
The 2017 Student Design Competition invited interdisciplinary student teams to apply place-based Smart City technologies to a specific New York City site. The winning team, L.E.A.P. from the University of Illinois at Urbana-Champaign, creatively identified a four-part vision — L.E.A.P. to a Smart Future — detailing how Smart City technologies could be used to improve Livability, Empowerment, Accessibility, and Play on site.
Finalists
Four additional teams were selected as finalists and presented their ideas at the National Planning Conference in New York City.
Smart CATS
Kansas State University
Adaptive Strategies
New York University
UCLA MURPs
University of California, Los Angeles
The All-Nighters
University of Illinois at Urbana-Champaign