Blue Bikes in the Big Easy
"If we don't get bike share in New Orleans within a year, I'm moving!" jokingly declared University of New Orleans Transportation Institute's founding director Dr. John Renne back in 2011.
He was fresh from a trip back east where he experienced the benefits of this new, fun, and convenient mobility option firsthand.
Ultimately, it took much longer than a year for New Orleans's system, Blue Bikes, to launch — and indeed, Dr. Renne did move away before it opened last year — but from that moment, the wheels were turning.
Planning to Implementation
Work began through an ad-hoc committee called the Sustainable Transportation Advisory Committee (STAC), which served as a resource to New Orleans City Council's Transportation Committee chair. It was composed of a variety of public, private, and nonprofit stakeholders interested in advancing local policy and programs supporting transportation choice and mobility for all.
Through this committee, the University of New Orleans, Bike Easy (New Orleans's bicycle advocacy organization), the New Orleans Convention and Visitors Bureau, Tourism Marketing Corporation, Downtown Development District, and the Harrah's Foundation pooled resources to develop an exploratory bicycle share feasibility study in 2012.
STAC used this study as an advocacy tool to introduce the concept to city officials and other potential partners, which spurred the region's MPO to develop a full feasibility study and business plan, completed in 2014.
From that point, we shifted gears into implementation: an RFP to solicit potential operators written with a focus on ensuring equitable access to the system, a series of public input sessions, pop-up bike share demonstration projects during major events to introduce how bike share works to the public and generate excitement, and neighborhood meetings throughout the initial service area focused on the details of bicycle hub site selection and placement.
Meanwhile, ongoing efforts to expand and improve the city's active transportation infrastructure more than doubled the network of bikeways from less than 50 miles in 2011 to about 120, including key network links like the Lafitte Greenway, as well as the city's first on-street protected bikeways.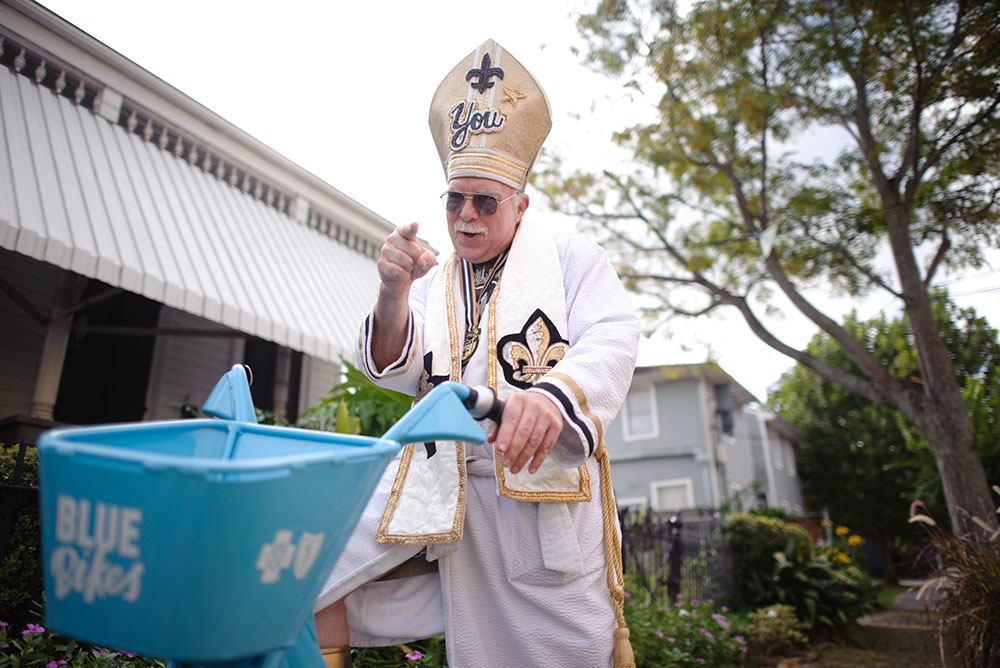 Finally, six years of effort and advocacy were rewarded with the launch of the Blue Bikes program (operated by Social Bicycles and sponsored by Blue Cross and Blue Shield of Louisiana) in December 2017. The system is supported entirely by sponsorship and user revenue, with a profit-sharing mechanism wherein Social Bicycles will return a portion of profit above a certain threshold to the city.
With 700 bicycles and 70 stations installed or coming soon, Blue Bikes service area includes all of downtown and a broad swath of neighborhoods from the Lower Garden District to Bywater, from the Mississippi River to City Park. At least another 200 bicycles are already planned.
Of course, the new system — touted as a "new public transportation system" by the mayor and a tool to expand mobility for all (residents enrolled in the state's Supplemental Nutrition Assistance Program are eligible for an annual membership for only $20 per year) — was not without its detractors.
In particular, stakeholders in the historic French Quarter successfully negotiated with the city to relegate Blue Bikes hub stations to the periphery of the district, citing concerns about parking and loading spaces, the distinctive bright blue of the branded bikes and stations, and challenges of redistributing the bikes during peak periods.
Ultimately, a compromise was reached, and a series of unbranded public bike corrals will be installed throughout the Quarter instead to ease bicycle parking woes for all.
Mardi Gras and Blue Bikes — A Match Made in Heaven
As the bikes and stations were rolled out over several weeks, public interest and awareness of the new system grew. Then, as Mardi Gras season rose to a crescendo in February after several unusually frigid winter weeks, enthusiasm seemingly exploded, and Blue Bikes were suddenly everywhere.
Residents and visitors alike discovered their convenience for getting to and from the festivities (or simply getting through and around the traffic snarls and street closures that accompany a dozen or more days of parades and citywide partying).
In just the first three months of operation, more than 7,300 people have taken over 34,000 trips on the bikes, resulting in what Blue Bikes estimates to represent over 3 million calories burned and a carbon emissions savings of 67,000 pounds.
Using Blue Bikes
To try out a Blue Bike, visitors can register through the Social Bicycle app (if you're a member of another SoBi network, you can join New Orleans's network from your existing app) or bluebikesnola.com for either a monthly membership ($15 for one hour of free rides per day) or pay-as-you go at $8 per hour.
All rides are prorated to the minute, so a 10-minute ride from the Convention Center to the music clubs on Frenchmen Street would cost $1.30, about the same as a one-way bus or streetcar ride.
Once you're registered, enter your 6-digit account number and PIN into the keypad on the back of a bike to unlock, place the U-lock in the holster, and take off.
Blue Bikes is a hybrid hub/dockless system: to end your ride, simply lock your bike to any of the Blue Bikes stations, or lock your bicycle to any public bike rack (or other fixed object) within the service area for a $1 fee, and you're on your way!
Top image: A rider on a New Orleans Blue Bike. Photo by Jason Cohen.
---
About the Author
Tara M. Tolford, AICP
Tara Tolford holds a master's degree in Urban and Regional Planning from the University of New Orleans, with a dual specialization in transportation planning and land use. She is currently responsible for leading all bicycle and pedestrian-related programs and research activities at the UNO Transportation Institute, including managing the Pedestrian Bicycle Resource Initiative, a project with the New Orleans Regional Planning Commission focusing on active transportation policy, data collection, and analysis.
---
April 4, 2018
By Tara Tolford-Marthaller, AICP
---
---